Rotowash Frequently Asked Questions (FAQ)
How does the Rotowash work?
Rotowash's unique twin contra rotating brush system – as each rotating Rotowash bristle leaves contact with the cleaning surface the dirt and waste water is instantly flicked onto the tough rotating pick-up drum, which deposits the grime into the waste tray, returning the bristles cleaned before coming into contact with the surface again.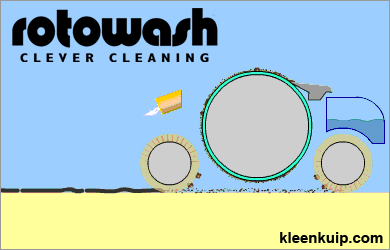 Is the Rotowash difficult to use?
No, the Rotowash is easy to use just like an upright vacuum cleaner. Just guide it in the direction you want to go and let the machine do all the work.
How much water does the Rotowash use?
Typically, very little water is needed to clean sufficiently. The operator has full control of how much water and cleaning solution is put down given the particular cleaning situation. After using the Rotowash a couple of times the operator will quickly learn how much water and chemical is needed to get the job done. Using too much water can actually be detrimental to the efficiency of the Rotowash.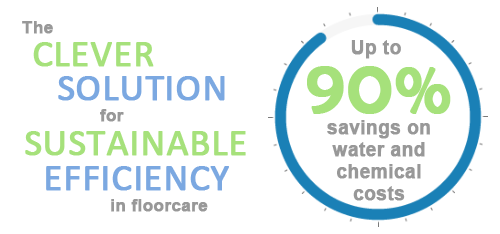 How wet does Rotowash leave the floors?
Using 90% less water, Rotowash scrubs, rinses and dries all in the same action. Hard floors are left dry enough to walk on almost immediately and carpets well within half an hour.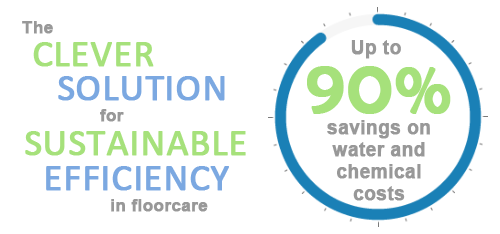 Is there any risk of damage to floors?
Rotowash simply scrubs and grooms all floor types without damaging the surface or grouting. With up to 600,000 contra rotating brush bristles cleaning the surface, Rotowash delivers exceptional efficiency and cleaning power, with soft, medium or hard brushes reaching deep into the irregularities of all types of floor surfaces, from Tiles to Carpets and so many more.
Are the floors slippery after cleaning?
Rotowash removes any residual detergent during cleaning. We work closely with major international safety flooring manufacturers and are recommended by them as the ideal cleaning machine to maintain the "co-efficient of friction" necessary for anti-slip flooring requirements.
Do I need a range of Rotowash brushes for my various floors?
The machines are supplied with the standard brush bristles. These Rotowash brushes are usually ideal for all floor types including tiles, carpets, stone etc. However a range of softer polishing through to the stiffer scrub brushes are available to ensure that Rotowash is suitable for all applications from homeowners right through to heavy duty commercial requirements.
How long do Rotowash brushes last?
Rotowash Brush Wear Guide (Standard Polypropylene)
| Floor Type | Guide in Hours |
| --- | --- |
| Carpet – 0 to 2mm pile | 700-1000 |
| Carpet – 2 to 7mm pile | 1000-1200 |
| Ceramic (smooth) | 280-320 |
| Ceramic Tiles (slip resistant) | 220-240 |
| Checkerplate | 140-180 |
| Concrete | 180-220 |
| Entrance Matting (aluminum slips/carpet with metal fibers) | 120-150 |
| Flotex soft flooring | 700-1000 |
| Laminate – Wood | 650-750 |
| Linoleum | 650-750 |
| Polyurethane coated rubber sports floors (ie Rebound Ace) | 550-650 |
| Quarry Slate Terracotta Tiles | 280-320 |
| Resin | 180-220 |
| Rubber (studded/ribbed) | 550-650 |
| Vinyl (slip-resistant) | 180-220 |
| Vinyl (smooth) | 650-750 |
| Wood | 650-750 |
| Escalator Treads (aluminum) | 100-120 |
Based on the correct brush care maintenance, average quality of floor and normal floor soilage.
What is the difference between Rotowash Single Pass and Dual Pass models?
Single Pass Machines
The single pass machines feature frontal located water-jets utilizing a pump system, allowing for the entire cleaning process to be completed in one motion, producing outstanding results with maximum efficiency. Single pass machines are especially useful in larger areas such as sports halls, long corridors or shopping centers, though their unique maneuverability makes them equally effective in confined areas.
Dual Pass Machines
The gravity feed water system (no water pump) allows our dual pass machines to produce unrivaled levels of cleanliness. Used in a forward and backward motion, the machines clean and dry as they work, leaving all of your surfaces deeply cleansed and ready for use within minutes.
How can Rotowash help in Hygiene Control and WSH requirements?
Rotowash supplies colour coded brushes (Red, Green, Blue or Yellow) for specific use in various locations. This helps reduce the risk of cross contamination in hygiene critical situations. Additionally, Rotowash provides initial and ongoing operator training to ensure that correct cleaning and operational procedures are complied with and that operators use the equipment in a safe and hygienic manner. Trained operators can also be certificated to assist organisations in achieving their accreditation requirements.
Where are Rotowash machines made?
Rotowash floor cleaning machines are designed and manufactured at our state of the art facilities in Austria, using material and components of the highest quality. The management and production systems we employ undergo frequent audits by the British Standards Institute (BSI-ISO 9001). Further, Rotowash products are regularly audited and approved by these leading organisations above. We place Safety, Quality, Ergonomics and Eco-awareness at the very heart of all our design principles.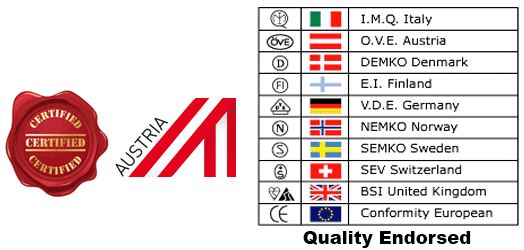 What do I do if I need Rotowash service, support, parts or consumables?
We service and repair Rotowash Floor Cleaning Machines. Call Us at 416-429-0401 (Monday to Friday 8:30am to 4:30pm EST Eastern Standard Time – Toronto) or Toll Free 1-800-565-2574 (Canada) or fill out our contact form located here.