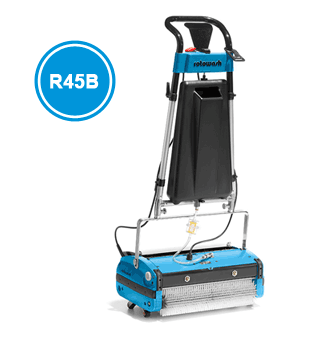 Rotowash R45B – 18″ inch cleaning path
Just like the R20T and R30T the larger R45B will clean all floor types, but the 45cm brush width makes it even more productive in larger areas such as hallways, reception areas, industrial kitchens, synthetic sports and leisure areas etc. Plus with a simple 10 second change of brushes the R45B converts to a superb escalator and travelator cleaner.
The patented brush system can effectively reach deep down into the irregularities of profiled safety floors, grouted tiles, studded rubber, entrance matting or escalator steps and is equally effective for scrubbing smooth surfaces such as vinyl, terrazzo and wood. On carpets the versatile brushes extract the dirt, lift the pile and leave the carpet clean, well-groomed and dry within minutes.
Financing options are available click here for more info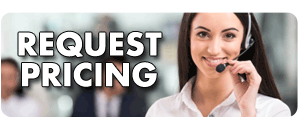 Have a question? Need a price? Call local Toronto at (416)429-0401 or Toll Free (Canada) at 1(800)565-2574 or click here to fill out our contact page.
Single pass scrubber drier
The Pinnacle of Productivity in Professional Cleaning.
The single pass machines feature frontal located water-jets utilizing a pump system, allowing for the entire cleaning process to be completed in one motion, producing outstanding results with maximum efficiency. Single pass machines are especially useful in larger areas such as sports halls, long corridors or shopping centers, though their unique maneuverability makes them equally effective in confined areas.
Operator Presence Control
Rotowash machines are fitted with an "Operator Presence Control (OPC)". This operator safety device automatically stops the machine motor in the event of the handle being accidentally dropped. Sometimes also referred to as a "dead man's handle" it switches off the machine power when an operator is not in control.
Appropriate Surface Types:
Carpets
Hard Floor Surfaces
Sealed Hard Floor Surfaces
External Surfaces
Technical Specifications:
Single-phase induction motor
Various ratings available eg 230V 50Hz 950w
Brush speed 650rpm
Brush diameter 110mm
Cleaning width 440mm
Solution capacity 9 litres
Injection Gravity
Brush contact pressure 220g/cm
Weight 31 kg
Length 366mm
Width 545mm
Clearance height 205mm
Coverage – hard floors 450m_/h
Coverage – carpets 150m_/h